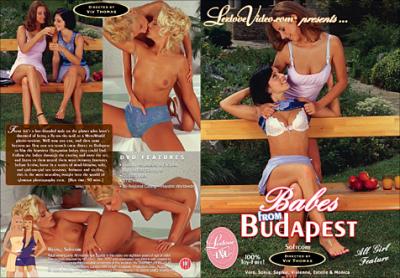 Starring
Vera, Sonia, Sophie, Vivienne, Estelle & Monica.
Description
A LezloveVideo.com World Exclusive! There isn't a hot-blooded male on the planet who hasn't dreamed of being a fly-on-the-wall at a MensWorld photo-session. Well now you can, and then some … because we flew our sex-search crew direct to Budapest to film the horniest Hungarian babes they could find. Follow the babes through the casting and onto the set, and listen to them reveal their most intimate fantasies before letting loose in a series of mind-blowing solo, and girl-on-girl sex sessions. Intimate and sizzling, this is the most revealing insight into the world of glamour photography ever.
http://hotfile.com/dl/85792898/f417461/Babes_from_Budapest.part1.rar.html
http://hotfile.com/dl/85828678/b4a095c/Babes_from_Budapest.part2.rar.html
http://hotfile.com/dl/85832553/5a6149a/Babes_from_Budapest.part3.rar.html
In this video, we get to follow a model casting which is held in Budapest, Hungary. The video is made up of scenes of the photo shoots and video shoots, interviews with the models and also some "behind the scenes" footage. In this first scene, Sophie, a cute but way too thin blonde, is laying on a sofa touching herself.
Four of the models are on a lunch break and Monica, one of them, picks up a camera and starts taking photos of the others. Soon, clothes are being removed. Vera and Sophie strip down until they're completely naked while Monica continues to take photos of them.
Estelle and Vera are being photographed and there's also an interview with Estelle
which is cut in now and then.
Estelle and Vera again, on the same bench, but this time it's a video shoot.
A solo scene with Monica, the girl who photographed the others during the lunch break. I have to say that her body is amazingly beautiful.
First we see Vivienne being photographed in an office. When the photographer leaves the room after the shoot, Vivienne stays behind and starts looking at some nude photos while masturbating.

Sophie and Sonia in a hot tub mostly kissing each other.
A solo scene with Vera.