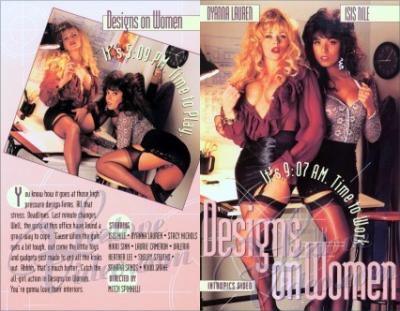 * Scene 1. Isis Nile, Stacy Nichols
* Scene 2. Laurie Cameron, Nikki Sinn
* Scene 3. Dyanna Lauren, Valeria
* Scene 4. Nikki Shane, Sahara Sands
* Scene 5. Heather Lee, Laurie Cameron, Shelby Stevens


Running Time:
1:12:19

Starring:
Dyanna Lauren, Isis Nile, Stacy Nichols, Nikki Sinn, Laurie Cameron, Valeria, Heather Lee, Shelby Stevens, Sahara Sands & Nikki Shane.

Description:
You know how it goes at those high pressure design firms. All that stress. Deadlines. Last minute changes. Well, the girls at this office have found a great way to cope. 'Cause when the goin' gets a bit tough, out come the little toys and gadgets just made to get all the kinks out. Ahhhh, that's much better. Catch the all-girl action in Designs on Women. You're gonna love their interiors.

http://hotfile.com/dl/116570888/7a51719/DOW93.part1.rar.html
http://hotfile.com/dl/116570963/3da20eb/DOW93.part2.rar.html
http://hotfile.com/dl/116571007/7fee4f8/DOW93.part3.rar.html
http://hotfile.com/dl/116571050/f582932/DOW93.part4.rar.html
http://hotfile.com/dl/116571010/4202760/DOW93.part5.rar.html
http://www.megaupload.com/?d=KP7GF930
http://www.megaupload.com/?d=JZOZIGQF
http://www.megaupload.com/?d=WIUSJCA5
http://www.megaupload.com/?d=0DED8YGF
http://www.megaupload.com/?d=HWUN5INW