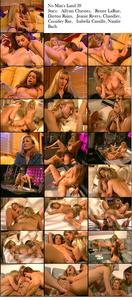 Stars: Allysin Chaynes, Renee LaRue, Dayton Rains, Jeanie Rivers, Chandler, Cassidey Rae, Isabella Camille, Natalie Bach

Studio: Video Team
Series: No Man's Land
Director: Wesley Emerson
Approximate Running Time: 01:24:23

Scene Breakdowns

* Scene 1. Isabella Camille, Natalie Bach
* Scene 2. Allysin Chaynes, Cassidey, Renee LaRue
* Scene 3. Chandler, Natalie Bach
* Scene 4. Dayton Rain, Jeanie Rivers
* Scene 5. Dayton Rain, Isabella Camille, Renee LaRue

No Man's Land 29

These lovely ladies are hot and horny and they all know exactly what they want and it isn't a man. That doesn't mean you can't watch, in fact that's what they're here for. There's nothing like the expert skills when the ladies take on the ladies. Who could resist all the crazy sexy fun?


Super recomendable, LA historia Va de una Detective LEsbiana que luego de follarse a su asistente toma un caso de una rica mamasita que le an robado un video incriminatorio donde sale ella teniendo sexo con dos mujeres o algo asi por lo que la detective decide infiltrarse en su circulo social para descubrir a la culplabe con lo cual tendra que follarse a sus ricas amigas. al final y despues de encontra a la ladrona deciden hacer un trio.
RESUBIDA
http://hotfile.com/dl/143888409/f629d34/No_Mans_Land_29-01.mp4.html
http://hotfile.com/dl/143888340/85b6ed1/No_Mans_Land_29-02.mp4.html
http://hotfile.com/dl/143888276/570ff83/No_Mans_Land_29-03.mp4.html
http://hotfile.com/dl/143888083/d831385/No_Mans_Land_29-04.mp4.html
http://hotfile.com/dl/143887973/dbd6bc1/No_Mans_Land_29-05.mp4.html
NUEVAS SUBIDAS HASTA EL DOMINGO