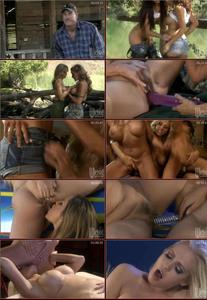 Category: Girl-Girl, All Girl, Fantasies
Director Jonathan Morgan
Starring Julia Ann, Nicole Sheridan, Flower Tucci, Sativa Rose, Keri Sable, Lexi Lamour, Cindy Crawford, Arianna Alyse, Azalea Lee, Malibu



Julia Ann has recruited some of the industry's hottest women to join her in this over the top, out of control, sex filled romp. From the back woods to the trailer parks these women give new meaning to the term "working stiff"! AN ALL GIRL BACK WOODS BONANZA THAT IS EVERY MAN'S DREAM COME TRUE!

Scene Breakdowns

* Scene 1. Keri Sable, Sativa Rose
* Scene 2. Julia Ann, Nicole Sheridan
* Scene 3. Arianna Alyse, Julia Ann, Keri Sable
* Scene 4. Azalea Lee, Cindy Crawford
* Scene 5. Keri Sable, Lexi Lamour, Malibu
* Scene 6. Flower Tucci, Julia Ann



Fantasy #1: Bass Fishin.' Keri Sable and Savita Rose are looking for a bite on the end of their line. Keri catches a nice big bass and a huge plastic anal bead dong up her ass, as Savita fucks herself with a dildo.
Fantasy #2: Snyp Huntin.' That damn snyp is causin' trouble again, but Julia Ann and Nicole Sheridan aren't going to let it get away this time. These pistol-packin' mama's mean business and the snyp better bend over and kiss his ass goodbye. In order to celebrate takin' that lil' bastard out, Julia and Nicole use a double ended dong and a strap on.
Fantasy #3: Sports Fans. "Yeah....let's kick some ass!!!" and "Your team is goin' down" Arianna Alyse and Keri Sable's team is playing against Julia Ann's team. The rivalry is getting vicious as food and soda shoots across the room. Julia proves that her team is not going down without a fight as Arianna and Keri both ride strap-ons that are attached around her legs.
Fantasy #4: Grease Monkeys. Azalea Lee and Cindy Crawford. These beauties know to get this engine running by using a double ended dildo on top of the car. They have the tools needed for some explosive orgasms.
Fantasy #5: Foam Wrestlin.' Flower Tucci and Julia Ann enter the ring o' bubbles to fight for the Women's Title. These girls prove that no holds are barred from this match as they get all wet and slippery in the ring.
Fantasy #6: Poker Game. Malibu, Lexi Lamour, and Keri Sable are playing a high-stakes and winner-takes-all game of poker. Only one person can win the poker game, but they all win the "poke-her" game
....:::: DESCARGAR ::::....
http://ul.to/jp4e7xnb
http://userporn.com/video/GpPX26fF6XvN