Vivid – Where The Boys Aren't 1 (1989)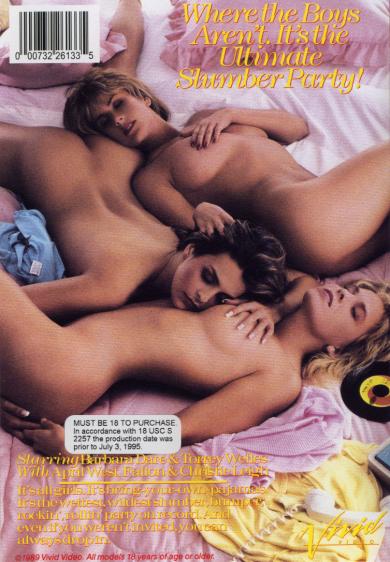 Starring:
April West, Barbara Dare, Fallon, Summer Rose, Tori Welles.
Where The Boys Aren't
This sexy flick is the ultimate slumber party!!! It's all girls. It's BYOP - bring your own pajamas! It's the wettest, wildest slumber, bumper, rockin', rollin' party on record. And even if you weren't invited, you can always drop in. Beautiful girls like Torry Welles and April West are doing all the naughty things you want to see.
Scene Breakdowns
Scene 1. Barbara Dare, Tori Welles
Scene 2. Barbara Dare, Summer Rose, Tori Welles
Scene 3. April West, Fallon
Scene 4. Fallon, Summer Rose, Tori Welles
Scene 5. April West, Barbara Dare
Scene One: Barbara Dare and Tory/Tori Wells, two of the best known performers from the 1980's, were up together having some lesbian action after rehearsing their script for a more conventional porno that the story has Joey Silvera directing. The gals were in fine form as they licked and sucked one another off. It wasn't up to modern standards in terms of length, variety of action and toys, or production values but I can appreciate the heat these two legends generated for the camera as they launched a series still being made today by Vivid.
Scene Two: Summer Rose, Barbara Dare, and Tori Wells, were up next on a large sectional couch as Paul and Joey tried to decide what they wanted from their imaginary movie. Most of the action this time was oral although the vibrator was kind of nice (like the last scene, only one toy was used) and they genuinely appeared to have fun together. I thought the introduction of Summer actually decreased the heat a bit since Barbara and Tori were perfectly matched, but the old adage "the more the merrier" is something many current pornos seem to subscribe to as well and it's tough to fault director Paul Thomas for his decision to try this approach.
Scene Three: April West and Fallon, were up next in a scene by an outdoor pool. Neither one of them would be tops on my list for looks, especially considering the other gals in the movie, but the action was top notch and I'm willing to bet they preferred doing women in real life too given the heated display of pleasure they put on for the camera. Rubbing baby oil on each other and jumping in the water made it even better although the technical aspects of the scene were pretty lame and it almost looked as if made for late night cable at times.
Scene Four: Summer Rose, Fallon, and Tori Wells, were up next. They were back out near the pool although not in it this time and Tori ruled the scene as the trio went at it with one another. The action was almost exclusively oral this time and the heat was mixed due to chemistry problems. The biggest problem for me here was the camera work zooming in far too often and the weaker than average editing that would take moments of heat and reduce them quickly. There were also problems with lighting and shadows but I'm not going to dissect the multitude of technical flaws since I could write a book about them (for this and the other scenes).
Scene Five: Barbara Dare and April West, taking up the last position as they did one another on a couch as Paul Thomas watched. While not as passionate as her scene with Tori, Barbara seemed very much at ease with her partner, almost as if they had something going off screen though not as brightly burning as her scenes with the others. The playful manner in which they engaged one another pleased me but the technical matters once again lowered the heat (man, anyone could've made porn in the 1980's, yes?). The gals used a few toys this time though and managed to give off some heat despite the inept direction, making me note that Paul Thomas has come a long way since making assembly line porn like this one that succeeded in spite of the technical matter rather than because of them.
:::::::::::::::DESCARGAR::::::::::::::::::::::
http://letitbit.net/download/48742.4d8984c4a7be58b32b01ac93fce1/Where_The_Boys_Aren_1.avi.html
MIRROR